May 4, 2017
Feminism and the Wave of Female Canadian Electronic Artists
Claire Boucher AKA Grimes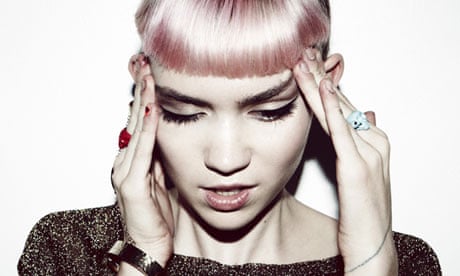 Most likely you've heard of Grimes- the stage name of Vancouver-born musician Claire Boucher. She rose to worldwide prominence (http://www.nytimes.com/2012/02/21/arts/music/reviews-of-albums-from-grimes-galactic-and-tyga.html?_r=1) in 2012 with her third studio album, Visions, as her eclectic, ethereal voice and "collision of art-rock and electro-pop" raised her popularity to new heights. Grimes has been making music since 2009, filling the role of producer, writer, singer, and director, a creative amalgamation which fits together to create the force that is 'Grimes'. Arguably, and importantly, she is a strong example of an independent female artist who has, and continues to create her own path in the (often) male-dominated music industry- and she's also a feminist, albeit she has remarked she does not like to intermesh her music career and personal beliefs. (http://flavorwire.com/531059/grimes-feminism-and-the-endless-burden-of-being-a-spokesperson
Nevertheless, if you look at singles like Oblivion, you can see clearly she has used music as a way to address a feminist discourse. The song deals with Claire coming to terms with a sexual assault, as she sweetly cooes "I never walk about after dark/ it's my point of view….and now I look behind all the time" to the dark, gritty background beat. In an interview with PitchFork, she has directly spoken about this aspect of her music, as she said "Art gives me an outlet where I can be aggressive in a world where I usually can't be, and part of [Oblivion] was asserting this abstract female power in these male-dominated arenas" and in regards to the music video where she is performing in football bleachers, a locker room, and motocross rally, "the video is somewhat about objectifying men. Not in a disrespectful way, though." (http://pitchfork.com/features/directors-cut/8783-grimes-oblivion/) Clearly, while not directly a 'feminist anthem', Grimes is an artist who deals with feminist issues.
Braids
Taking creative inspiration from Grimes, (http://berkeleybside.com/interview-creative-expression-with-raphaelle-standell-preston-of-braids/) another place you can find a feminist standpoint, along with a similar sounding surreal synth-pop vibe, is through Braids– a Calgary-based trio with Raphaelle Standell-Preston at the forefront. Braids' third album Deep in the Iris has a few hard-hitting songs which deal with slut shaming, pornography addition, and Preston's own personal narratives.
In Miniskirt, the first single from the album, Preston powerfully addresses the sexual double-standard between men and women, with the 'Casanova-type' male figure getting praise for his sexual exploits, but she states "in my position/I'm the slut/I'm the bitch/I'm the whore/The one you hate."  In Sore Eyes, another song off the same album, Preston's vocals lilt out an ode to the problems with pornography- and the discrepancy between reality and the unrealistic and sometimes violent porn industry, as she croons "Would I want to look into my backyard and see this?/ But I'll watch it in my room, have my screen receive it."
Austra
Another female artist to check out is Austra, the electronic music project founded by Katie Stelmanis. In an interview with AfterEllen, Stelmanis has stated that both her and bandmate Maya Postepski are queer, and although she makes sure to state her sexuality and music are "two different things," it is still important to note this as she does further queer, feminist representation in music, and she has stated that she wants to be "blatant" about gender politics and feminism. (https://www.theguardian.com/music/2013/jun/21/austra-katie-stelmanis)
The band shares the same ethereal vocals and sounds that both Grimes and Braids do, and her songs certainly touch upon issues of gender. Take the song I Don't Care (I'm A Man), off her 2013 album Olympia, where she chants "the solace in denying/the soft, the brutalizing/ but I don't care, I'm a man" to a soft beat. Although she hasn't remarked about the song in particular, it could easily be read as a contention towards the masculine dismissal of female issues- of the callous treatment of women's bodies ("brutalizing") and the "solace in denying" these problems. Regardless, however one reads the lyrics, Austra is a powerhouse that is worth taking note of- they just released their new album Future Politics on the day of Trump's Inauguration, so Stelmanis is not shying away from spearheading controversial issues with her music.
If you would like to listen to some artists with a similar sound that maybe aren't necessarily Canadian, try Santigold, or Santi White, the electronic artist from Pennsylvania. Her song and video The Keepers juxtaposes Santi as a 50s housewife in a painfully white cookie-cutter family, as she croons about the decrepit state of current America. Intersecting race (with the addition of a black maid waiting on the family), and sexuality (in showing the traditional role of the housewife in 50s America), she sings "we're the keepers, while we sleep in America, our house is burning down."
Finally, NAO or FKA Twigs also provide a refreshing glimpse into female (and feminist) electronica as well. Hopefully this list has been enlightening, and please do check out and support the artists on Itunes and through other media!